Andrews Private/Hatcher Farm/Old U.P./Union – Salem Twp. (Some re-interments to Richmond Presbyterian Church Cemetery)
Will of James Watson - Removal from Andrews Cemetery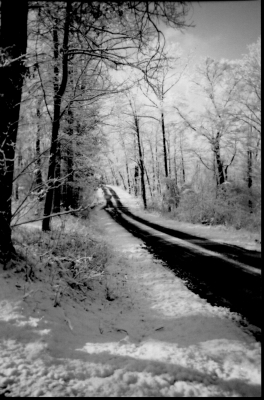 Will of James Watson
1 June 1837
$140.00 to defray espence[sic] of removing from David Andrews place and burying in reformed church at Richmond bodies of George Watson, Eliza Watson and Sarah Eleanor Watson and Sarah Watson as soon as said church shall have a burying ground and place head and foot stones at their graves. William and David Andrews to perform burials.
Brother George Anderson
Executors - Henry Shook and David Andrews
Witness - John Andrews and William Henderson
1 June 1837
Probate
Cemetery Project Updates
Flora L. VerStraten

The photo above was taken in the winter of 2006 and featured on the front cover the OGS newsletter magazine. It is a beautiful area to live and I can just picture our ancestors living here and how beautiful it was to them. Looking at the photo, up in the far right corner of the photo is the entrance to the Andrews Cemetery. You have to park your car, straddle a bob wire fence and walk through a small hay field to the grove on trees on your left. If anyone would like to see this cemetery, please contact Flora. She has permission to take descendants to the cemetery.
I believe that Col. John Andrews was buried in this cemetery. From deed I conducted, they show a John Andrews receiving land after the Revolutionary War that match this exact location on the township map. I believe where the Andrews Cemetery is located is where he owned land.
There was a church, referred to in old records and Mr. D.W. Thompson's history of Richmond, Salem Township, showing the First Presbyterian Church was located on Col. John Andrews land, in a small log cabin and called the Union Church Cemetery, just outside of town. The road where the cemetery is now located is closed, but years ago it went straight into the main street in Richmond, about a mile outside of Richmond.
We note that Col. John Andrews has a tombstone marker in the Richmond Presbyterian Cemetery, which was seen and read by MaryKay Emmerth and Ann Thorn. Mr. D.W. Thompson notes also in his tombstone inscription ledger, that a Col. John Andrews is buried there. AND - we have seen a tombstone in the Annapolis on the hill Cemetery (also known as the Heisler Cemetery), which is in the opposite direction of the Andrews Cemetery, which is heading towards Annapolis. I BELIEVE Col. John Andrews was originally buried in the Andrews Cemetery, where we note several 'early' tombstones, predating 1830, that are now illegible. Some re-interments occurred and of course there are no records to be located of removals from Andrews Private Cemetery to any other modern cemeteries. We actually found a will that states a removal from the Andrews Cemetery to another cemetery. This was found by accident!
The Andrews (Hatcher, Union) Cemetery is VERY near my home located in Salem Twp. However, I live right on the border in Ross Township. I came upon the cemetery in November of 2002. A boy scout, who is a neighbor, told me about it and we walked right to it, less then a 0.6 of a mile from my house!
The one stone we could clearly see was that of Rebecca ANDREWS, died 11 yrs old. Everyone in the neighborhood believed that was all that was buried there - one little Andrew's girl! Her stone was broken in two pieces.
Since then we have found 19 more stones. My family assisted me in probing and discovering more then one burial. Some tombstones and bases were buried as far down as 3 feet deep, under deep oak tree roots, while others were just below the ground covered with dirt and sod. We just recently found a native stone that was hand carved, dated 1822, down 3 feet deep in the ground! My granddaughter, Victoria Freeland flipped the "rock" over to spray it with water (as we have taught her to do now for 5 years!) and to gently clean it and she discovered the old knife carving date on the rock (stone).

The cemetery is located near a large hay field from which the land is leased for hunting purposes. The cemetery was severely overgrown with weeds, old trees and limps, poison ivy, and wild multi rose bushes. We will continue to work on this cemetery until we have exhausted all possible tombstones.
Feb. 2008 updates - this cemetery was cleaned and restored by Matthew Hubbard as part of his Eagle Scout Project. James Baxter assisted him, along with his family members and fellow troop members in restoring several tombstones. The cemetery is clean and the VerStraten Family has adopted it since it neighbors our property. A sign was installed and it remains clear of weeds and brush.