Salem Twp
Jefferson County, Ohio
Annapolis/ Old Annapolis/New Salem
Category: Ohio physical, cultural and historic features; Feature Name: Annapolis Cemetery, Type: Cultural, Class: Cemetery, County: Jefferson, FID: 1961679, Coordinates: Latitude 40.4100662 and Longitude -80.8636978.
Article written by Flora L. VerStraten
On October 16, 2004 the Ebenezer Zane Chapter of the SAR conducted a graveside service at the Annapolis Cemetery, located in Salem Township, Jefferson County, Ohio at 10:00 a.m. Several community leaders including Dave Miller, Salem Township trustee was present. Conducting the service was SAR President, George Livingston. Patriots recognized were as follows:
Abraham BETZ
Ezekiel COLE
Alexander PATTERSON
John DAVIS
I had the privilege of attending this service, along with my nine-year-old granddaughter, Victoria VerStraten. Beginning the service was Patrick Coughlan, who played Amazing Grace on the bagpipes. He is a member of the Wheeling, West Virginia Celtic Society. I spoke about my Patriot ancestor, Ezekiel Cole. I was not expecting to become emotional, but I did. Following my remarks, presentations for each patriot were given by George R. Ruch, a member of the Color Guard, and Past President of the Ebenezer Zane Chapter SAR.
During the service, the gray clouds departed long enough for the sun to shine through. Concluding the service was bugle player Norman Moran, a member of the Ebenezer Zane Chapter SAR, playing TAPS.
Thoughts and reflections: During the service we could feel the Spirit of those patriots and families in attendance, confirming the words spoken of service to their country, their families, and the land they loved. For just a few moments, the modern world was gone, we were slowed down, and we could feel life on the farm, in this pioneer, rural community in which we were standing. At the conclusion of the graveside service, the gray clouds moved back in and the rain began. We were brought back in time just as quickly as we had left.
If you have never had the opportunity to attend such a graveside service, I can personally affirm that it will be a peaceful, positive experience in your life. You will come away feeling a stronger connection to the past, and the sacrifices our patriot ancestors made for their families, their land, and their liberty!
Below – Photo courtesy of George Livingston, October 2004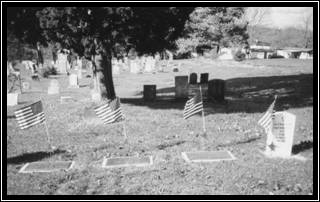 Patriot service & flag installation at the Annapolis Cemetery, Salem Twp., Jefferson County, Ohio.
Patriot bronze markers L to R: BETZ, COLE, and DAVIS. Far right - PATTERSON tombstone.