Ross Township
Jefferson County, Ohio
Adjoining cattle farm has done much damage over the years.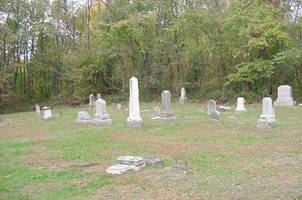 Bacon Ridge Cemetery 2003
Photo taken by Jean Scarlott
Flora L. VerStraten and Jean Scarlott took this photo in 2003. The top photo is a view of one section of the Bacon Ridge Cemetery, located in Ross Township.
"Saving Our Cemeteries"
By: Flora L. VerStraten - In a corner of this pioneer cemetery we found stones in the woods as well. This cemetery is an example of the "state of the cemeteries in Jefferson County, Ohio. There are Civil War soldiers buried here (two that I know of) as well as a War of 1812 Veteran and two Revolutionary War Patriots. Some of our earliest pioneers buried in this cemetery. The remarks I am going to make here is intended to wake you up and stimulate your thoughts so that you may be concerned and get involved with the Cemetery Preservation - Restoration Project going on here in Jefferson County. Through donations we are able to purchase the needed archival supplies to repair these old tombstones. From the book titled, "The Pathfinders, written by W.H. Hunter is the following; "Bacon Ridge Presbyterian Church was organized by Rev. George Scott in 1804. Among the first members were: Arthur Latimer, John P. McMillen, Stephen Coe, Thomas Bay, Calvin Moorehead, Aaron Allan, Andrew Dixon. The first minister was William McMillen."

Bacon Ridge Cemetery, according to the township trustee records, has changed names over the years. Many now know the cemetery as the Montgomery Cemetery, but locals still refer to it as the "Old Bacon Ridge Cemetery." The following are some readings taken from an old cemetery index card file that a researcher located at the FHLC as of Nov of 2002:

William Alexander, died Sept 10, 1832 - 6 yr 5 m

Aaron Allen, died May 18, 1850 - 79 yr

James T Allen, son of Moses & Elisabeth Died, Apr 17, 1843, - 10 y 3 m 24 d

Mary, consort of Aaron, died March 26th, 1845, in 62nd yr

The following was taken from Mary D Sinclair's files located at the JCHL:

Rachel Allen (This stone was seen by Mrs. Sinclair in 1930 when she read the cemetery). There is NO trace of the stone when Flora was at the cemetery in Nov of 2002.

Samuel Allen (NO trace of this stone when Flora was at the cemetery in Nov 2002.)

Location:

Directions:

Notes: