William Nash Bickerstaff, Civil War Veteran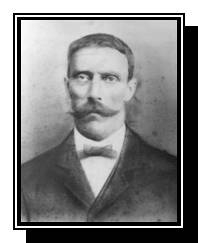 William Nash Bickerstaff
{Submitted by chapter member, Vicky Shoppe}
William Nash Bickerstaff, a son of William and Susan Holmes Bickerstaff, was born about 1842 in Jefferson County, Ohio. The ages given for William in the 1860, 1870, and 1880 and 1900 US Census are inconsistent each time, making us unsure of his birth year. Found in the Official Roster of the Soldiers of the State of Ohio in the War of the Rebellion 1861 – 1864, William Nash's age is listed as 22 on 15 May 1864, the day the regiment was mustered in. On 24 November 1861, he married Lavina Smith, born 24 March 1835, in Ohio, daughter of Charles Smith and Ann Risher. William was a coal miner by trade. It's possible that the name "Nash" came from William D. Nash, his uncle by marriage to Aunt Sabra Bickerstaff. Records from the Finley United Methodist Church make reference to a Nash Bickerstaff, and Lavinia's obituary refers to her as Mrs. Nash Bickerstaff, which indicates that they called him Nash. In 1870 Lavinia and William lived next door to his parents, William and Susan. In the 1880 census, we find them living in Mingo Village next to Samuel Bickerstaff (brother), aged 26, and his wife, Elizabeth, aged 19. Lavinia died 4 May, 1881 and is buried in the Union Cemetery. In 1900, William Nash, probably in poor health, was living with his son Andrew and daughter-in-law Emma (Dimit) on Wilson Ave., afterwards going to live in the Dayton Soldier's home, where he died 21 November 1901.

William Nash served as a Private during the Civil War in Company D, 157 Ohio Volunteer Infantry. This Regiment was organized at Camp Chase, Ohio, 15 May, 1864, to serve one hundred days. It was composed of the Thirty-ninth Battalion, Ohio, National Guard, from Jefferson County, and the Eighty-eighty Battalion, Ohio National Guard, from Carroll County. On the 17th of May the Regiment was ordered to report to General Wallace, at Baltimore. It was assigned to General Tyler's command, and, after remaining in camp a few weeks, was ordered by the War Department to Fort Delaware. During the remainder of its term of service, the Regiment performed guard duty over twelve to fourteen thousand prisoners. At the expiration of its term of enlistment, the Regiment reported to Camp Chase, and was mustered out September 2, 1864.

William Nash first began the general application process for an invalid (disability) pension in March of 1890. This record stated that he was 47 years of age, 5 feet 9 inches tall, with fair complexion, brown hair, and gray eyes. It stated that for four years prior to 1890 he had been disabled for at least half of the time from manual labor on "account of rheumatism…but contracted while in the army due to exposure to wet and damp weather, not caused from any action on his part." Other affidavits, also submitted in 1890, state his age as 52 and 57. The pension of $10.00 a month, started 13 August 1899…he died in 1901

Steubenville Herald Star, Nov. 21, 1901 - William Nash Bickerstaff - An old resident of this city, died at the Dayton Soldiers Home, Tuesday, aged about 68 years. His remains were brought to Steubenville this morning at 1:30 and taken to his late residence on Coal Hill, from where the funeral will take place Friday. Deceased was a son of William Bickerstaff and was born in this county. He was married to Lavina Smith, who died a number of years ago. The surviving children are Homer, Andrew, Charles, Mrs. Daniel Greer and Mrs. James Crossley. Brothers surviving are Augustine, Ellis and John. Mr. Bickerstaff served in the war of the rebellion and was admitted to the solders' home last spring. He was a coal miner by trade and was a highly respected.