Boles
Shelly Cardiel of Kirkland, WA sent the following photo to the Jefferson County Chapter. OGS.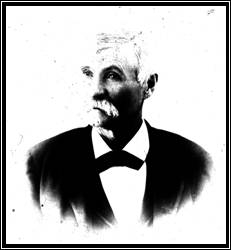 James Thomas BOLES' photo was taken at the F. A. Bueche Studio in Steubenville, Ohio. Shelley stated in her letter to me that she tried to locate someone from the family, so those photographs could be returned to someone who was connected to this couple, with no success. She passed the photographs along to our group in hopes of locating someone from the family. On the back of James' photo the following is written, "Uncle James Thomas Boles, my great grand uncle."
On the backside of Judy's photo is hand written, "Aunt Judy Boles, great grand aunt." There is nothing on the front cover of this photo to indicate where the photo was taken.
These electronic pages may NOT be reproduced in any format for profit or presentation by other organizations or persons. Persons or organizations desiring to use this material, must obtain the written consent of the contributor or the legal representative of the submitter, and contact the Jefferson County archivist with proof of this consent. The submitters have given permission to the Jefferson County Chapter, OGS to store these files permanently for free access.
Copyright © 2007 - 2015 - Jefferson County Chapter of the Ohio Genealogical Society - All Rights Reserved
This website is designed and maintained by Amy Hissom-Daugherty