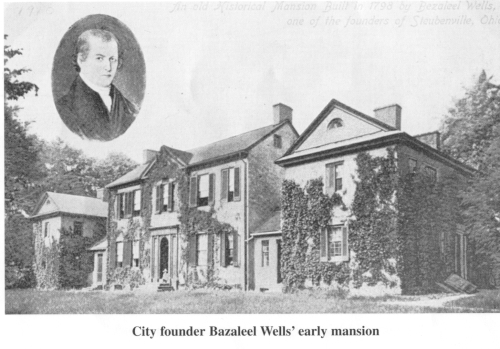 Previous to 1840 all of Steubenville's mercantile houses were located on Third Street. Following are some of the men doing business here between 1820 and 1840:
John Kells - Dry goods, N.E. corner of Third and Washington Streets
John Orr - Dry goods and grocery, soap & candle factory, N.E. corner of Third and Washington Streets.
James Parks - Dry goods store in a log house on Third Street
Eli Dillon - Dry goods
James Teaff - Gunsmith, Third Street near Washington Street
Bill & Moore and David Betts - Dry goods
Valentine Owesney - Grocery and notions
B.F. Osborne - Saddler and harness maker
Captain Wm. Spencer - Dry goods
Martin & Andrews - Wholesale grocers
Samuel Page - Iron store
Hance Wilson - Dry goods
David McGowan - Hardware and grocery store
John Alegeo - Dry goods
Hammond and Ditse - Dry goods
Dike & Laughlin - (later Laughlin and Bell)
Alex McMechen - Dry goods, S.E. corner third and Market Streets
R. & H. Permar - Dry goods, in log house on South Third Street
The first foundry in Steubenville and the first iron industry of any kind outside of the making of nails and the blacksmith shops was started by Arthur H. Phillips and Robert Carrell in 1815.
The construction of the old Wells and Dickinson mill, and the introduction of the first steam engine gave an impetus to the manufacture of case iron and machinery, and created a demand for some local concern that could make parts of machinery without being compelled to wait for their arrival from Pittsburgh. Adam Wise was one of the first machinists, and set up the machinery in the Woolen mill.
The same year Phillips and Carrell purchased the site occupied by the present Means Foundry. This property was known on the records as the "Pebble Bank" lot. They also acquired the river front, with the privilege of wharfare and docks.
Just below, Elijah Murray had a boat yard where, for several years, he made flat boats and the hulls of steamboats to be fitted with machinery elsewhere.
In 1819, the construction of the first steamboat made in Steubenville was begun and the boat was launched in the following year, being christened the "Bezaleel Wells." Phillips had made the machinery and it was pronounced a success. The boat had a single engine, side wheels, boilers in the hold and the cabin on the boiler deck. Insignificant as it would appear in the present day it developed the possibility of Steubenville becoming a great boat building town.
Several boats were built with engines made in this place. Among them the Congress, Steubenville, Robert Thompson and Aurora. The burning of Murray's boat yard in 1832 checked this industry and also that of Phillips for building marine engines.
In 1835 Mr. James Mean purchased the property, and during his life it became one of the best known and largest foundry and machine shops west of the Ohio river.