Joseph Humphrey Hollis
   (Information submitted by, Carol Hinton, 2275 Woodland Dr., SW., Carrollton, OH 44615-8952)

Joseph was born April 9th, 1835 in Otsego County, New York, the son of the Reverend Humphrey and Ann Eliza Gage Hollis. The Reverend Hollis served as an Episcopal Missionary and Rector of the St. James Church (watch for more about this church in the spring 2004 issue!), Cross Creek Twp., Ohio and St. John's Church in Springfield, Jefferson County, Ohio from 1833 to 1855.
Joseph H Hollis remained in Jefferson County and worked as a plasterer.  He enlisted on the 13th of June in 1861 at Camp Chase in Columbus, Ohio and was appointed Orderly Sgt. with Co. F., 25th OVI.  He was promoted to 2nd Lt. on the 11th of Sept. in 1862.  He was promoted once again to 1st Lt. on the 15th of March 1864.  He is described as 22 years of age, 5 ft. 8 ˝ inches, complexion and eyes dark, hair dark at the time he volunteered.  By the time he was discharged, he was 1st Sgt. of Co. F., of the 25th OVI.  That was at Columbus, Ohio on the 16th of July in 1864.  A surplus of officers is listed as the reason for his demotions.
A cousin of the submitters in Steubenville has Joseph's sword, presented to him when he was promoted to Lt. and is inscribed with the following words:
Presented by Co., F, 25th OVI, Joseph H. Hollis,
April 23, 1863.
Joseph H. Hollis & wife Ellanora Mershawn Patterson
Married 25 August, 1864, Steubenville by Rev. Morse
Joseph and Ellanora's children are as follows;
Emma Staley Hollis, born 10 Jul 1867, Steubenville, OH. Died 27 Oct 1953 in Stark Co., OH.  She married Wilson W. Reynolds in Jefferson Co., OH.

William Patterson Hollis, born 4 Jul 1870 in Jefferson Co., OH. He died 19 Nov 1895 Jefferson Co., OH.

Humphrey Hollis, born 14 Nov 1874 Jefferson Co., OH. He died 1 May 1946, Jefferson Co and married Delia D. O'Malley.

Thomas Hanna Hollis, born 19 Aug 1879 Jefferson Co., OH.  He died 3 Jul 1941 Pennsylvania.
Children not surviving infancy listed as follows:
Anna Eliza 1865,Mary Catherine1869, Ella Mershawn 1872,George VanMeter 1882, Joseph Heber 1888
(Four generations Ca. 1908)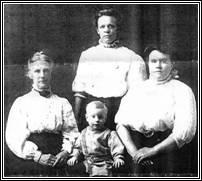 L-R: Ellanora Mershawn Patterson Hollis, Emma Staley Hollis Reynolds, Stella May Renolds Fath, Charles Fath Jr.