William Humphreville - Civil War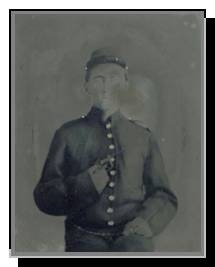 William Humphreville
Born – July, 1833, Mt. Pleasant, Ohio
Died – May 29, 1925, St. Cloud, Florida
William Humphreville, son of William & Sarah Humphreville, was born in Mt. Pleasant in July of 1833. William followed in his father's footsteps in the profession of cabinetmaking, though he also worked in the field of printing. Humphreville was 28 years old when he enlisted to fight in the Civil War, casting his lot with the 1st Virginia (Loyal) Volunteer Infantry Regiment being raised in Wheeling.
William enlisted on October 1, 1861 and was assigned to Company C. during his time in Company C, Humphreville fought with the regiment in several battles in western Virginia and the Shenandoah Valley. In February of 1862, William was promoted to the rank of Sergeant and transferred to Company H. It was during the summer of 1862 that William contracted a severe case of sunstroke that left him convalescing in the hospital for two weeks. This malady would ail him through his life and eventually earn him a federal pension.
William re-enlisted at New Creek, WV on February 15, 1864 to serve for the remainder of the war and participated in nearly every battle and march which the regiment undertook, including the battle of Cedar Creek where the 1st WV lost its beloved Colonel, Joseph Thoburn.
In addition to William, the Humphreville clan sent two more sons to the war. Theodore Humphreville served as a Sergeant in Company B of the 52nd OVI, while a younger brother, Ensley, enlisted in "Carlin's Battery", Battery D of the 1st West Virginia Light Artillery. Both brothers survived the war, Theodore returning to Mt. Pleasant and Ensley moving west to Missouri.
The war ended for William and the remainder of the 1st WV Volunteer Infantry on July 16, 1865 at Clarksburg, WV. Following the war, William never stayed long in one place, moving from Ohio to Alabama, Wisconsin, Georgia, Mississippi and Florida…"wherever I could find work," he stated on his pension affidavit.
After spending several years in homes for disabled veterans, Humphreville ended up in St. Cloud, Osceola County, Florida as a border in the home of a Mr. David Harden. It was there that William Humphreville died on May 29, 1925. He is buried in the Mt. Peace Cemetery in St. Cloud, a cemetery famous for the number of Union soldiers buried from across the country.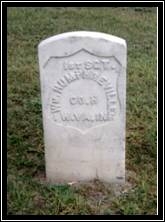 Many thanks to Jon-Erik Gilot for writing this article and including these photos. If you are interested in joining our Civil War Society, go to the homepage and click on Civil War Applications. You can download and print an application from the homepage.