The Roots of the Present Lie Deep in the Past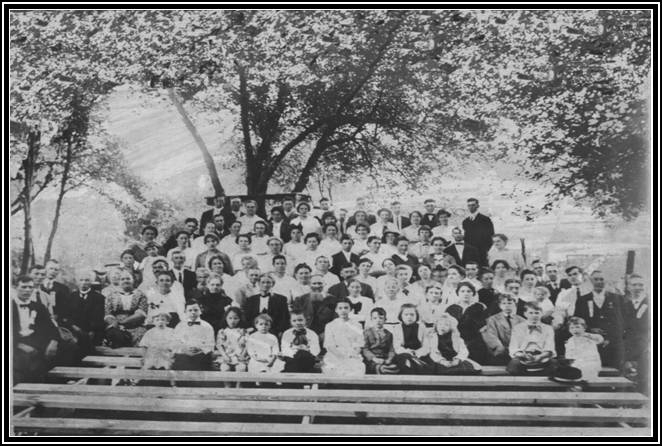 Possible Lawrence Family Reunion
September 15, 1914 - Ault Grove, Near Toronto
Chapter member, William Maple would like to identify the "Ault Grove" location, which may be in the Toronto - Knoxville area. He would also like to identify other possible family members in the photo. Williams' father, Wm. C. Maple is on the right, standing in the dark suit. Just left of Wm. C. is his oldest sister, Grace Maple Wallace. His future wife, Meda V. Brown also thought to be two rows down in front of him to the left. His mother, Francis Lawrence Maple is in the left 4th row seated with child in front.  Beside Wm. is friend and neighbor, Walter Goddard.
Please contact newsletter editor if you can help identify the location of the photo and/or anyone in the photo. Contact information for editor: Flora at fverstraten@dishmail.net
These electronic pages may NOT be reproduced in any format for profit or presentation by other organizations or persons. Persons or organizations desiring to use this material, must obtain the written consent of the contributor or the legal representative of the submitter, and contact the Jefferson County archivist with proof of this consent. The submitters have given permission to the Jefferson County Chapter, OGS to store these files permanently for free access.
Copyright © 2007 - 2015 - Jefferson County Chapter of the Ohio Genealogical Society - All Rights Reserved
This website is designed and maintained by Amy Hissom-Daugherty