Salem Twp
Jefferson County, Ohio
Jefferson County, Ohio – Organized in 1814 by John Reinhard
St. Paul's Evangelical Lutheran Church, Annapolis, Jefferson County, Ohio – Organized in 1814 by John Reinhard. John Zimmerman and Jacob Leas and others often walked to the church, which stood "IN" the Leas Cemetery. This is the first we've learned of a  CHURCH located IN the Leas Cemetery. This we have some locations we can search for church and possible cemetery records. This was not a private/family cemetery as first thought by many.  This information was extracted from the  Memorial History of the Pittsburgh Synod of the Evangelical Lutheran Church 1748-1845-1924, published in 1925.

Read more about this church and cemetery from the Jefferson County Lines Newsletter, Spring Issue, Pg. 4. This newsletter, along with any specific newsletter can be ordered by the page, issue or a CD is available as well. Check our Publications Sale website page for more details or contact
Flora directly at fverstraten@dishmail.net
Category: Ohio physical, cultural and historic features; Feature Name: Leas Cemetery, Type: Cultural, Class: Cemetery, County: Jefferson, FID: 1042452, Coordinates: Latitude 40.4106219 and Longitude -80.8370296.
---
(The following information was submitted by chapter member and cemetery volunteer,
MaryKay Emmerth
)
In the fall of 2003 it was the beginning of an exciting new adventure! That's when
Elaine
and I became involved in the Jefferson County Cemetery Project. We were new and inexperienced in this world of  "reading tombstones."
We quickly learned how to use mirrors, flour and rubbings to extract tombstone information.  We learned the sadness that comes from finding families who had lost many small children and the young men that died during the wars.  Most of all we gained a deeper appreciation for "those who have gone before us."
Elaine Simon
and I finished reading Leas Cemetery and toward the end of 2003. It was a fairly easy cemetery to read as it is well maintained by the Leas family. The cemetery is still used today. All the information is now entered on the spreadsheet and the deed searches are complete.
The Annapolis (old) Cemetery.  We are "thankful" for sunshine and spring temperatures so we can get busy!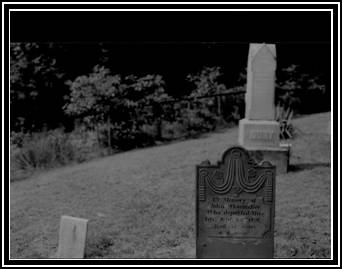 {Photo taken by MaryKay Emmerth}  The above photo was taken of an old slate style tombstone located in the southeast portion of the Leas Cemetery. The inscription reads, "In memory of John Shoemaker, who departed this life Sept. 23rd, 1836, Aged 51 years & 8 mon."