Jefferson County Chapter, OGS
OPEN HOUSE – MEMBERS & PUBLIC WELCOME
JUNE 8, 2010 – 6:00 P.M. to 9:00 P.M.
100 Fernwood Road, Wintersville, OH 43953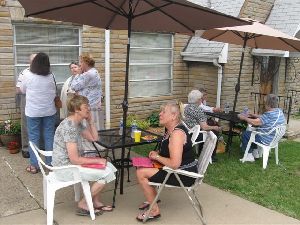 ANNOUNCING
Jefferson County Chapter, OGS Open House is slated for June 8th (Tuesday) from 6:00 P.M. to 9:00 P.M. This will include a book signing by Virginia Glenn, who reprinted her ancestor's (Doc Schillings) book titled, Tales of Yellow Creek and Yellow Creek Stories. She will be signing books from 6:00 to 7p.m.
Refreshments and seating on the front lawn (weather permitting!) and door prizes will be drawn throughout the evening.
Inside the archive at 7:00 P.M., chapter president, Flora VerStraten will begin a presentation and "show and tell" followed by a tour of various records that are housed at the archive. An inventory list will be available to attendees; with a list of sources for researchers. Updates will be announced more concerning the digitizing project as well as goals to open our doors to researchers. At 8:00 P.M. time for Q&A. 
Collections at the archive include early county records as well as many immigrant/naturalizations/ declarations of intentions and several other such records dating from 1825 through the Ellis Island time period and beyond.
You can learn more about the chapter and projects at their chapter website - www.jeffcochapter.com.  They are currently accepting 2010 memberships, annual fee is $17.00 or learn more about membership from the website! Benefits of membership include discounts at the archive/library to members only and by 2011 they will be adding a "members only" portion to their website as well as other special membership privileges, beginning in 2011.