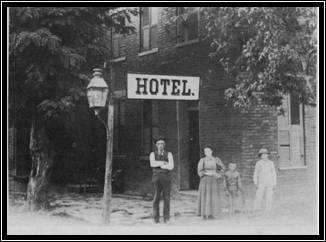 (Photo - D.W. Thompson collection)
As of January 2008 - The old Kinney Hotel (listed on the historical marker currently attached to the side of the old hotel) sits at the corner of Main Street,, Richmond, Salem Township, Ohio. When I stop at the gas station, that is located right beside the old hotel, I often think about all the residents that have lived there or have spent the night at the hotel. It is currently used as a private rental  residence. {Comments by Flora L. VerStraten}
Richmond
John England bought the lot in 1818 for $58.00 and a building was built about 1835. David Cameron was appointed postmaster March 26, 1845 and operated a hotel and bar as well as a Post Office. Other Hotel owners include; Joseph Jackman, 1863; Elizabeth Jackman, 1865; Ezekiel Cole 1874; Elijah Cole, 1886; John Simpson, 1888; Elizabeth Hout, 1891; George W. Fellows, 1894; Jerome Miller, 1900; and James Rawlins, 1906, a span of some 70 years. David Cameron called his business "Cameron's Exchange Hotel" which included a livery stable. On April 2, 1850, he advertised that 68 letters remained uncalled for in the Post Office. John Simpson and Elizabeth Hout, owners of the Hotel called it the Asheley House.  The historical marker on the front of the Hotel reads, The Kenney Building, "formerly the Richmond Hotel," 1835. (It appears to be rental housing in poor repair at the present time).


 D. W. Thompson'sbook titled, Richmond Community 1815-1986 states the following- The old Rawlins Hotel was sold in 1919 at a sheriff sale by W. T. Baker to John McKee for $1100. He sold it to Harry D. Houser in 1919. Major repairs began in 1929 to the building including electricity, heat, roof...
These electronic pages may NOT be reproduced in any format for profit or presentation by other organizations or persons. Persons or organizations desiring to use this material, must obtain the written consent of the contributor or the legal representative of the submitter, and contact the Jefferson County archivist with proof of this consent. The submitters have given permission to the Jefferson County Chapter, OGS to store these files permanently for free access.
Copyright © 2007 - 2015 - Jefferson County Chapter of the Ohio Genealogical Society - All Rights Reserved
This website is designed and maintained by Amy Hissom-Daugherty