Salem Twp
Jefferson County, Ohio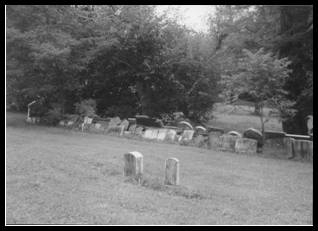 Fallen tombstones are lined up in the Old M.E Church Cemetery, Richmond, Salem Twp., Jefferson Co., Ohio. This photo was taken in the summer of 2004 by MaryKay Emmerth & Ann Thorne who read the cemetery tombstone inscriptions.   We call this location in the cemetery, The Wall of Shame.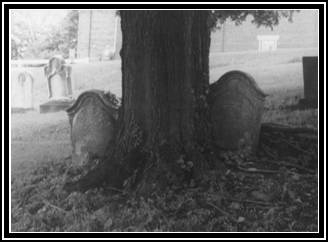 MaryKay Emmerth and Ann Thorne took this photo at the Old M.E. Church Cemetery, Richmond, Salem Twp., Jefferson Co., Ohio. MaryKay and Ann read the tombstones in this Cemetery in the fall of 2004. Note how the two tombstones have grown into the trunk of the tree and have became part of it.
(Reported in the spring of 2004, submitted by MaryKay Emmerth)
Ann Thorne of Richmond is a new volunteer to the cemetery project and offered to help me continue reading cemeteries in Salem Township. Ann and I have just begun to read the M.E. Church Cemetery. This will be a challenge.  Although the cemetery is maintained (mowed) by the Richmond Village, there are many missing tombstones, some of which have been propped up against a 20-foot wall at the bottom of the cemetery. We do realize that this is better than disposing of the stones which has been the case in other cemeteries. 
History of Oliver M.E. Church
      Oliver M.E. Church held services were held in tents and in the home of Thomas Oliver, who came from County Donegal, Ireland in 1806.  A log Church was built in 1817. The foundation for the next church structure is still present on the grounds where the old pioneer cemetery sits, reminding us of its earliest pioneer families who are buried there.
       Thomas Oliver's brother, Henry was an early Minister.  Veteran, Laban Buckingham  fought  in the War of 1812 with Randall's Battalion of Riflemen, Maryland Militia. He died in 1839 and is buried here. Several tombstones, including Laban's, are broken from their original bases and leaning up against the old church foundation. This portion of the cemetery was unknown to many over the past years. The cemetery was so grown over before the boy scout group came in and cleaned it, that many people looking for their ancestors only noted the top portion of the cemetery, near the road and were unaware of how large the cemetery really was, extending down to the original church foundation.

There are digital photos available for all the tombstones in this cemetery  upon request.