The following was taken from, Memories, author, Call, page 61. ...returning to Route 43 and Circle Green Road (County Road 60) and heading north on that road, there was a big house and barn. Folks named Gardner lived there. A large three room school house stood next and it had grades 1, 2, and 3 in one room, grades 4, 5, and 6 in a second room, and the 7th and 8th grades in the third room. There were huge blackboards and also large stoves (round furnace type coal stoves) in each room. There was a Bell Tower – and outside toilets! When I went there, I remember Mrs. Stoneking was the first room teacher; Edith Waggoner (Hill) had the second room; and Harold Mills and Mrs. Sutton taught in the third room. Mrs. Sutton used a rubber hose to "keep order" and I remember Joe Dorchek caused me to get it used on me! And when I got home, I got another lickin' from my Dad! Other teachers in later years were. Mary Miller, Sadie Hendricks, and Rachel Hanlin.
When my boys went to that school, Jim Ward had a home build next door. He "fought with the kids and the teachers" about the balls that happened to land in his yard.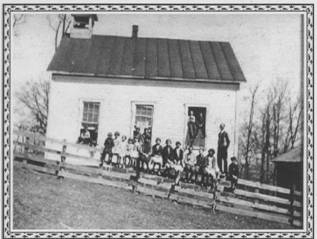 Although the schoolhouse was demolished and may no longer stand, its memories go on forever!
On the south side of Timothy Ridge (County 56) is a beautiful big home belonging to the Snyder family. On the north side, was the old Cox farm, formerly the Moore family, with a big two-story frame home on it. The Weaver's also lived on that farm. Next on that side of the road was a schoolhouse and I believe it was called the Locust Grove School. It was remodeled as a home for Jim and Mina (Maple) Moore's family. Gertrude (Ondusko) Culp put a mobile home beside it in later years. There are many homes out across County 56…The Crabbe family had a lovely red brick home on the corner of County 56 and State Park Road.
EAST SPRINGFIELD, OHIO – East Springfield is in the northeast quarter of Section 35, about five miles west of Richmond… In 1813 the first school house was constructed of logs on Joseph Flenniken's farm by Hammonds, Johnstons and Flennikens. The teacher was paid by subscription at $10.00 per month. A second school was built across the street from the store. Early teachers were: Thursa Calhoun, John Green, John McClain, Mariah Shull, Pressley Lyle, Thomas Shultz, Thompson Calhoun, Susan Lewers, S.T. Beresford and Jack Kerr. This school was on out lot no. 19. The third school was on out lot no. 20. The school was moved to the top of the hill in 1884. They built one then and about 5 years later they built another one back to back. In 1909 they built the last one there, a three-room schoolhouse. The two old ones were moved. One was moved to James Carter this house is one of the old school houses and the other one was Bill Burchfield barn on the Schneider farm. NOTE – The original plat of East Springfield, Ohio can be found in Volume A, page 321.
Memories can enhance daily living-
They can cause us to recall pain –
A struggle to understand and to be understood –
Yet, when all is said and done,
I Thank God for each and everyone!