The following information was provided by James Baxter in the spring of 2004 when he gave his cemetery volunteer report:
All Saints Russian Orthodox
Amsterdam Catholic
Bergholz
Circle Green
Coleman
Davidson
Gordon
Miller
Wolf Run Lutheran
Workage Farm
Of the ten cemeteries, the township cares for three, three are church owned, and four are privately owned.  Jean Scarlott has personally read all the tombstones in all of the cemeteries.

Most of the information for the smaller cemeteries has been entered onto the spreadsheet and the Deed Books for the Bergholz Cemetery are now on the spreadsheet as well.  Most of the cemetery location information has been gathered. 

Like all projects, we've had some highs and lows.  Two of our lows were finding out about the almost destruction of the Davidson Cemetery.  This burial ground is located on two different properties and has a fence through it and part of it has been used for cattle pasture. Another difficulty that is going to prove to be challenging is the All Saints Russian Orthodox Cemetery.  A large number of the stones are in Russian, a language that uses the Cyrillic alphabet. 

On the high side of our finds, property owner Mike Morgan found the Workage Farm Cemetery in the Spring of 2003.  Probably the oldest known and found tombstone in Springfield Township is located there. It marks the grave of Margaret Hannah.  I asked him, " how did you find the tombstone?"  He stated that he noticed every Spring daffodils came up in the middle of the woods! Sometimes it's just as easy as a large pine tree or a bed of bulb flowers- but most of the time it's a lot harder than that!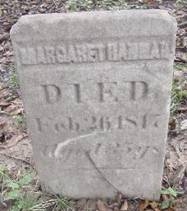 Margaret Hannah, aged 35
(Photo courtesy of Jim Baxter)
Scarlott - McGee - Gordon
George's son, John Scarlott married Ann Rutledge who died in 1854. George then married Mary McGee/Magee, daughter of Robert McGee and Jane Gordon. Jane Gordon was the daughter of Joseph Gordon and Phebe Gordon whose graves where found in a remote strip pit area off county road 61 near Amsterdam in April of 2003.  John and Mary McGee Scarlott and their families are all buried in the Circle Green Cemetery.