The photo below is of Nelson Patterson, which was a schoolmate of Isaac N. Wycoff.  Photo was taken by David H. Williams Aug, 18,1904.
Isaac Wycoff
His grave is located in the Richmond Union Cemetery. This beech tree (as pictured) stood on the farm of Samuel M. Patterson in 1862 on the Ray Swickard farm in 1970, which is located in Ross Township, Jefferson Co., Ohio. 
The carving was done by Isaac Wycoff the day he enlisted or the day he left home to join the company at Richmond Ohio.  Co. G 52nd Reg. O.V.I. Commanded by Captain J.T. Holmes, who was president of the Richmond College in the 1860 until the spring of 1862.  The Civil War then being in progress he raised a company of volunteers and entered the Union Army.  Isaac Wycoff was killed at Kenesaw Mt. GA., July 27, 1864 which time he fell on William H. Stephenson and was carried to the rear by William and laid at the roots of a tree.  His grave is in Richmond Union Cemetery Sec D, Lot #23, age 22 yr. old.  William H. Stephenson died Oct 18, 1929 age 88 yrs old.  His grave is in the Richmond United Presbyterian Cemetery Row 6, stone #6."

Information and photo provided from Donald W. Thompson cemetery ledger.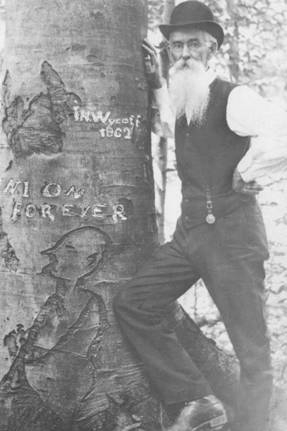 Nelson Patterson - Photo taken in Ross Township on Samuel M. Patterson's farm